Review of unprinted artifact and land cards below. The full spoiler is still located here. I also reviewed white, blue, black, red and green in previous articles.

M11 Review, Artifacts and Lands

Brittle Effigy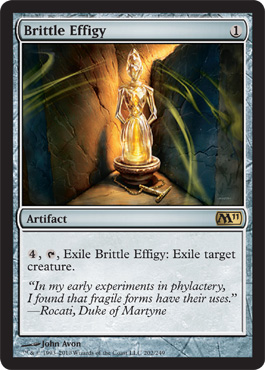 Limited - 4
Constructed - 3

Kills just about any creature dead and works for any color. A top limited pick and I suspect it will show up in a lot of constructed decks as well, probably confined to the sideboard though.

Crystal Ball

Limited - 3
Constructed - 1

I like this card in limited since it can make a decent deck better. Probably more of a casual card in constructed.

Elixir of Immortality

Limited - 1
Constructed - 2

Has potential as sideboard tech for some decks in constructed. Nothing special in limited although it's a nice foil to millstone decks if that becomes a concern.

Gargoyle Sentinel

Limited - 2
Constructed - 1

Cool fluff here but not much else. Playable in limited.

Sorcerer's Strongbox

Limited - 2
Constructed - 1

Some cool potential here in limited if you can survive long enough for it to trigger. Too slow for serious constructed.

Steel Overseer

Limited - 2
Constructed - 2

Potential here for a mono-brown artifact deck at the constructed level. I wouldn't bother with this in limited unless you can supplement with a number of other artifact creatures.

Stone Golem

Limited - 3
Constructed - 1

A solid creature for a good cost playable in any color. It should find it's way into any limited deck.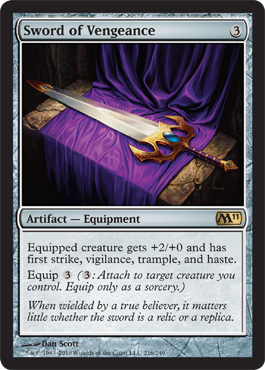 Sword of Vengeance

Limited - 4
Constructed - 1

Outstanding pick for limited, especially if your creatures are on the smaller side. Probably too slow for serious constructed play.

Temple Bell

Limited - 1
Constructed - 2

A revised howling mine has potential since it's easier to slow down when you no longer need (or want it helping your opponent). Might find it's way into a control deck. More likely a casual card.

Warlord's Axe

Limited - 3
Constructed - 1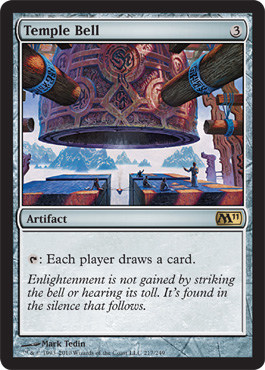 Expensive but can transform creatures into more potent killing machines. A nice limited pick.

Mystifying Maze

Limited - 3
Constructed - 2

I don't hate this card but it sure is pricey. It's a nice stalling technique but 5 mana seems pretty heavy for a temporary effect. A decent mid range draft pick. Certainly worth running in any sealed deck.

So that wraps all the new cards in the set. I think Green and Red probably got the most help here, especially in limited play. Also notable in M11 was the large number of Vintage playable cards.

If you are playing in the pre-release this weekend let me know how it goes for you. Maybe I'll do a breakdown of your deck and sealed pools if you send them in.